Glendale's Tom Differ, the contract manager at our Aster Housing contract, was charming all the residents earlier in the month. Glendale provided a cherry tree for the residents of Meadow Court and Tom and the team helped them plant it to mark the Platinum Jubilee of Queen Elizabeth II!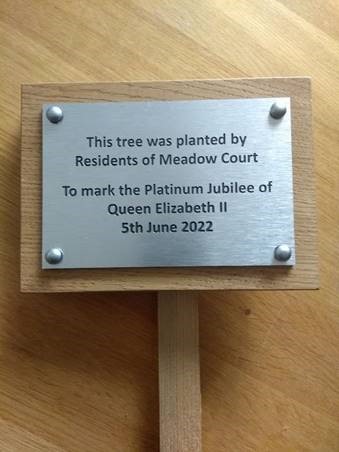 The residents absolutely loved getting involved in planting the gorgeous tree and they were happy to have something meaningful in their neighbourhood that they'll be able to see every day. Here at Glendale, we love helping our local community and getting people interested in a greener future. By planting a tree instead of putting up bunting, flags, or decorations, we're ensuring that they have something that will mark this moment in time for decades (cherry trees live for around 20-40 years).
A cherry tree, also known as a cherry blossom or Japanese cherry, is the perfect type of tree to mark the Jubilee – cherry trees are often a symbol of good fortune, new beginnings, and revival. After the last couple of hard years the UK (and the world) has had with COVID-19, businesses shutting down and many people struggling both financially and mentally, we thought this was the perfect tree to mark a fantastic celebration of our Queen becoming the first-ever British Monarch holding a Platinum Jubilee after 70 years of service.
We're so proud of Tom and the team over at Meadow Court. Here at Glendale, we provide a range of grounds maintenance services for Aster Housing, so whilst the residents have a well-maintained neighbourhood all throughout the year, they now also have a beautiful, vibrant cherry blossom.
A massive well done to the Glendale team. We hope everyone has a fantastic Jubilee weekend, whether you're celebrating or not! It's a great time to refresh and revitalise (or party) over the 4-day weekend.
If you're interested in grounds maintenance services, our team provides them across the UK to housing institutions, public sectors, private sectors and many other businesses. Contact us and we can provide a free site survey.