A team of four from Glendale has been installing Christmas lights on behalf of the Individual Restaurant Company (IRC).
The IRC is one of the UK's leading restaurant owners, responsible for brands including Piccolinos, Bar & Grill and, most recently, Gino D'Acampo in conjunction with the TV chef.
Starting in late October, Glendale covered the length and breadth of the UK – from Tunbridge Wells to Newcastle-upon-Tyne – bringing a festive glow to the windows of 43 popular restaurants with nearly 3.5 miles of lights.
Communication, efficiency and impeccable time management was crucial for keeping to the strict deadlines imposed at each restaurant to ensure the lights were installed successfully before the lunch-time rush.
Contract manager, Daniel Watson, said: "Installing Christmas lights does seem a bit of a side step from what Glendale is traditionally known for, but it's actually the perfect example of the direction the company is moving in.
"We want to highlight the huge variety of services we can, and do, undertake for our clients above and beyond the usual horticultural and landscaping activities. Our philosophy is to try and match every request we receive and find the best possible solution."
This is just one of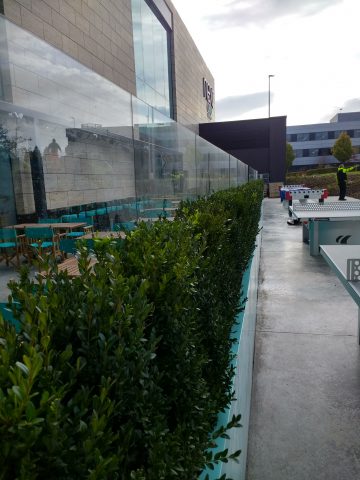 many projects Glendale's team undertake for the IRC. In October, the team planted up a storm at Gino D'Acampo's restaurant in Leeds laying 250 Buxus sempervirens at the new restaurant on Springs Retail Park. Other projects include installing artificial plant displays, internal plant displays, landscaping rooftop terraces and planting hanging baskets.